Rusted, The Natural Finish
If you are considering a rust finish fence there are a number of benefits and, speaking from our own experience, it was a choice I'm glad we made.
This has been reinforced by really positive feedback from every customer of ours that has chosen to go down this route. Painted fences are still very popular but in the last 20 years I've noticed a swing towards the natural look. It used to be that 90% of our installations were painted but now that's more like 50%.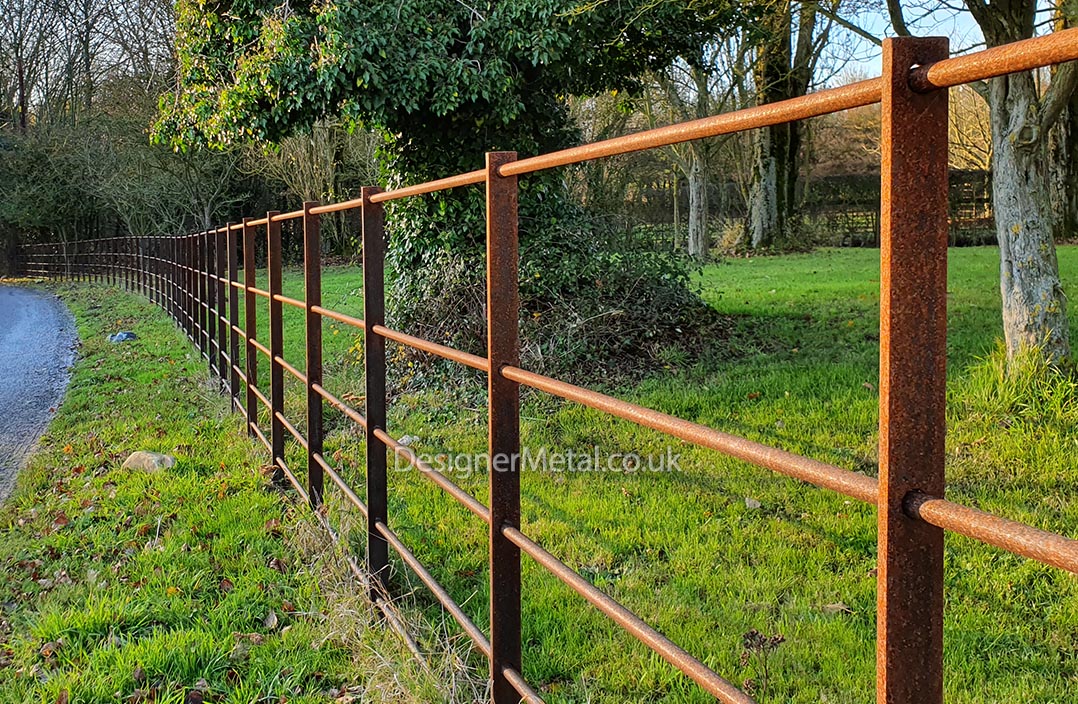 Our First Fence
In the early 1990's my father decided he wanted to put some traditional estate fencing around the 2 paddocks in front of his house, 1500 metres in total.
We produced the fence posts in our farm workshop, and I set about putting it up in the winter months. Although I didn't realize it at the time "a business was born".
We didn't paint the fence and within a year it had rusted to a natural, understated organic brown. It fits in perfectly with our rural environment.
Structurally Perfect
It is still structurally perfect with only surface rust and no structural indentation or weakening.
Our 12mm thick fence posts are driven 900mm into the ground. Over the years on several occasions I have dug down and witnessed no structural corrosion of the fence posts below ground.
(Photo taken in December 2019)
At the time of writing this fence is now almost 30 years old. I see it every day. I am confident, like so many of the old fences we are now replacing, that our fences will last in excess of 100 years. Making them economic when you stack the figures against wooden posts and rail, in terms of the installation cost, repair and reinstatement expenses going forward.
A natural rust finish fence on the day it was installed in Hampshire on a summers day in 2013.
The natural rust finish was an aesthetic choice for us and primarily it should be for you. In the right environment it looks great and within a year or so from installation will look like it has been there for years.
And, of course, it's zero maintenance. You'll never have to repaint it.
Natural Finish Tree Guards
These rust finish tree guards offer an economic way of protecting your trees for life. We sell more of the rust finish guards than any of the other 3 finishes we offer.