Installation of Estate Fencing
Every year we supply many miles of metal estate fencing all over the UK. The use of generous steel sections and our method of installation, gives our product great rigidity and strength. You are truly investing in a last-a-lifetime fence that will be enjoyed by generations to come.
We guarantee the structure of our steel estate fencing for 50 years (not including accident or damage).
We guarantee our estate fencing for use with heavy stock without the need for electrification or backstays.
Fully welded construction, not clip together.
Generous steel section sizes
Installed to a minimum depth of 800mm
We may be able to recommend fencing contractors in your area.
For an exact price for supply-only, simply send us a bill of quantities by email to: [email protected] (or phone on: 01473-658-111 with your post code, gate requirements and any other relevant information. You will receive a quote back within 24 hours.
Each fence post is driven deep into the ground. The depth of installation is one of the key factors to producing a strong, rigid metal fence. We go in almost twice as deep as some other systems on the market. Over the last 20 years we have installed metal estate style fencing in nearly every county in England, Scotland, Anglesey, the Isle Of Man and France. During this time we have encountered all soil types and ground condition and never yet been unable to complete an installation.
Once the posts are in upright and true, the rails are run through in 6m lengths, staggering them like a brick course so no single post holds all the joins.
Then everything is welded up on site. Each rail is welded to every post, so each post has five welds and each weld is about an inch long, not just tacked together. Where the rails join they are welded all the way around the joint. All the rail joins are done on posts, so are not visible.
The end result is a seamless fence with no visible joins or bolts. It will hold its line and stay upright for decades. This thorough welding process is the other factor in producing a really strong metal fence. It is in a different league to clip together fencing available on the market today.
Fences are spray painted once they are up. They receive a high zinc based primer and then an industrial grade top coat. Although a two coat application, fences are sprayed from both sides, in way that most of it receives 4 coatings.
Estate Fencing Styles
As standard we produce four types of metal post and rail fencing. All four stand 1.2m tall (approx) above ground. The posts are spaced at 1 metre apart and all have five traditionally spaced rails; a smaller gap at the bottom with each spacing becoming greater as they rise up the fence.
We publish our specification and section sizes because we are proud to produce a product that is built to last
Style 1
50 x 12mm thick posts with five 20mm solid round rails running through them. The strongest of the 5 rail fences.
Advantages of Designer Metal Fencing
With our method of installation the fencing will follow curves and ground contours beautifully, and both at the same time. These fences really flow and are very pleasing on the eye. These sort of effects are just not possible with pre-fabricated rectangular panels that bolt together.
Over the years we have installed estate rail fencing around numerous lakes and ponds. A visually unobtrusive, effective barrier, adding to the setting rather than detracting from it. This photo clearly demonstrates the ability to deal with curves of any radius.

The advantages of our method are clearly demonstrated in the photos above. It allows the installation to follow curves and contours in a way that is just not possible with pre-fabricated panels.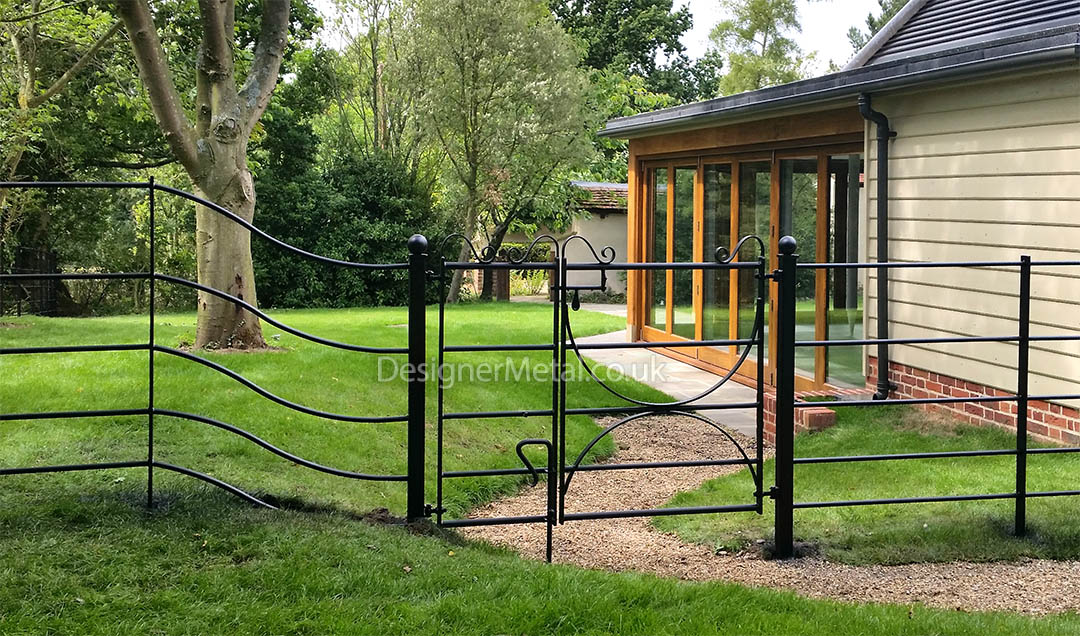 Effective use of swoops to deal with an abrupt change in ground level.
Designer Metal estate fencing, with our tree guards in the background, in the January snow 2010. This fence was installed in meadows across the road from our Suffolk workshop in 1992 and is still as straight and as upright as the day we put it in. The fence was never painted and despite being almost 30 years old shows no sign of structural corrosion, other than surface rust, even at ground level.
The use of generous steel section and the quality of the installation will ensure that this fence will still be standing at the end of this century. The estate guards were installed in 2002 and have withstood the rubbing of heavy stock for 18 years without moving. For a land owner or estate manager both items are a once-in-a-lifetime, maintenance-free purchase.